Workman® Self-Retracting Lanyard
MSA's new Workman SRL provides the best value for your money! With lightweight design and durable, thermoplastic housing with impact-absorbing bumpers, the Workman SRL will not only be accepted by users, but also provides years of dependable service.
Workman® Self-Retracting Lanyard
10120724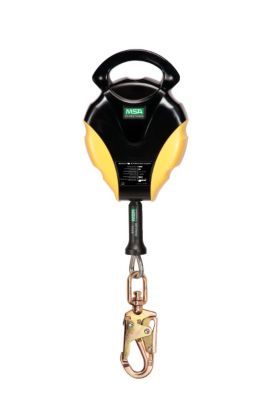 Length:
0.124 M (4.882 IN)
Width:
0.203 M (7.992 IN)
Height:
0.356 M (14.016 IN)
Weight:
6.146 KG (13.550 LB)
10121778

Length:
0.169 M (6.654 IN)
Width:
0.323 M (12.717 IN)
Height:
0.543 M (21.378 IN)
Weight:
8.505 KG (18.750 LB)
RFID-enabled product simplifies product tracking and inspection.
Integral, ergonomic carrying handle for easier transport and installation.
400-lb/136 kg working capacity for increased versatility.
No required annual factory recertification to lower your cost of ownership.
Swivel snaphook with load indicator at lifeline end greatly limits twisting of cable; also alerts users that the Workman SRL has been involved in a fall.
Available in 30- and 50-ft/9 and 15 m lengths to provide the mobility you need.
Available with galvanized or stainless steel lifeline to fit your varied applications.
Applications:
Working at Heights
Approvals subject to change without notice and may differ based on configuration, part number and/or country.
Contact Customer Service or check approval label on product for specific approval information.
Certified to ANSI Z359.14 2012, CSA Z259.2.2 and meets all OSHA requirements.
Certified according EN 360
ANSI Z359.14-2012
CSA Z259.2.2-98
CE Certificate EN 360:2002