ArcSafe® Harnesses
Maintenance and utility workers are protected from the hazard of high-energy electric arc flash while wearing ArcSafe® Harnesses. This harness may also be used for retrieval from a confined space. The nylon web loop that is included adds comfort by reducing overall harness weight and also reduces potential of electrical arc to harness. The Y-Shaped back web adds additional comfort and adjustability.
EVOTECH® Harnesses
For the latest design features that improve user comfort, ease of use, durability, and user safety, choose the  EVOTECH ® Harness. The EVOTECH harness has Nanosphere® coating on the webbing that repels grease, dirt & moisture.

Gravity® Harnesses
Gravity series harnesses meet the needs of workers in specialty environments of specific work applications such as high heat, welding, corrosion, rescue, rigging and suspension. The  Gravity® Coated Harness uses a special urethane web coating to resist stains and wear and tear that are common when working in dirty environments.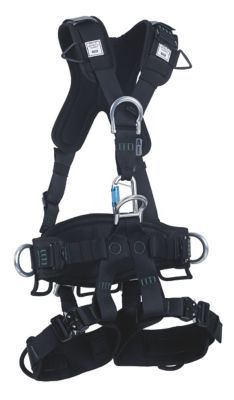 Gravity® Suspension Harnesses
The Gravity Suspension harness provides unparalleled comfort for all applications that require extended periods of time in a fall protection harness.  The features and benefits of this new family of harnesses from MSA are designed to reduce fatigue and allow users to perform their duties better and in more comfort. Models are designed for very easy donning, one hand adjustment at all adjusters, and modern styling.

TechnaCurv® Harnesses
The TechnaCurv® Full Body Harnesses offer features never seen before in full-body harnesses: Curvilinear comfort system, Visco-Elastic shoulder padding, and Sorbtek fabric on the shoulder and sub-pelvic pads. The harness is designed with downward adjusting torso straps on most models to ease fitting. 

Thermatek® Harnesses
With chemical- and heat-resistant Kevlar/Nomex blend webbing, the Thermatek® full body, vest-style harness is an effective fall arrest solution. Features webbing and stitching in contrasting colors for easier inspection, and Qwik-Fit leg straps for easy connection.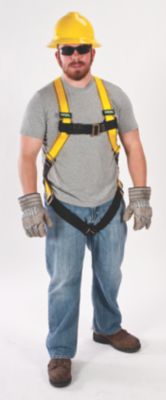 Workman® Harnesses
Quality, comfort, and value come together in the Workman line of products. Workman Full Body Harnesses feature lightweight components and durable webbing. For corrosive environments, the Workman® Stainless Steel Full Body Harness comes equipped with stainless steel hardware.  Stainless steel components are resistant to harsh environments so they maintain durability when used in corrosive environments.